On October 22nd 1921 – the stars were perfectly aligned – Georges Brassens was born in Sète, on the French Mediterranean. Son of a mason – and freethinker! – and of a devout Catholic washerwoman, Georges grew up in a favorable environment: in the family home everyone loved to sing! Light-hearted and always up to some mischief, Georges was no big fan of school, but passionate about reading and poetry. Early on he already started writing poems and songs, unsuspecting that "the trumpets of fame" were awaiting him, and that one day he would become one of his country's greatest singers, all-time "giant" of the French chanson.
The image is classic: Brassens performing. Alone on stage, guitar in hand, left leg leaning on a wooden chair, black curtains behind him, dark curls and mustache, intense gaze, sweat on his forehead, with no other accompaniment than a contrabass: Georges delivers himself to his audience body and soul. Like a language-magician he alternates refined literary expressions and references to Greek mythology with slang and raw vulgarities. Rich in images and outspokenness, his songs often cause offence if not an outright scandal. In the prude fifties and sixties in France some are even banned by public broadcasters. Anyway, who cares? Meanwhile they have entered – like their author – the pantheon of the French chanson.
"Le gorille", "Les copains d'abord", "Mauvaise reputation", "Les amoureux des bancs publics": right from MÉNESTREL 's early days the classics by grand Georges have occupied a special place in our repertoire. Hence, on the occasion of the centenary of his birth we have dedicated a special program to him.
HOMMAGE À GEORGES initiates you into thirty of his most famous songs or makes you rediscover them. Always been one of his fans? Fancy an evening full of humour, smiles and gems? MÉNESTREL offers you this program with pleasure, for a friendly fee.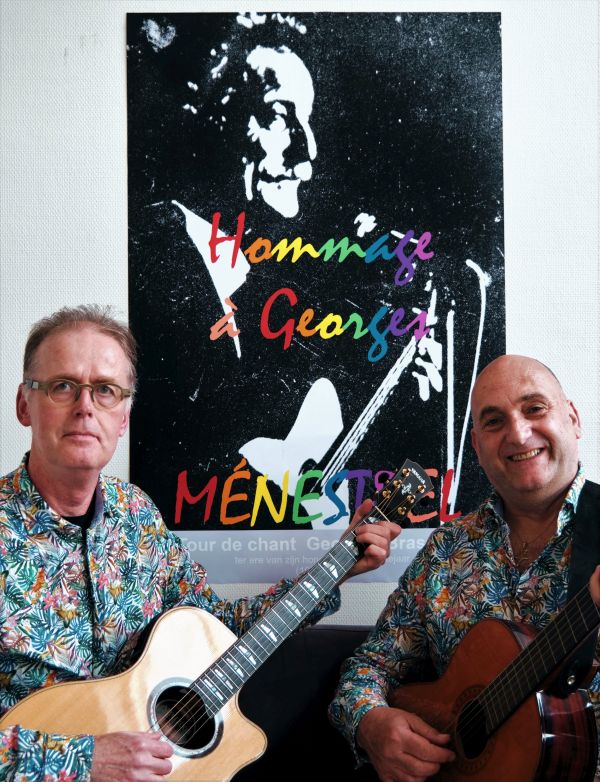 19th March: a special afternoon
Sunday-afternoon 19th March 2023
 Ménestrel pays a tribute to the singer.
In an intimate living room setting we sing about 20 of Brassens' most famous chansons, we reflect on his life story and the themes from his repertoire. And we take the audience – with Dutch translations – into the juicy, funny, often naughty lyrics of his songs. More than an afternoon of music: a real meeting with a legendary chansonnier. Soyez les bienvenu(e)s, be our guests!!!
The concert will take place in the small, cosy Theatre In De Steeg, Westeinde 165 in Den Haag and starts at 14h (doors open at 13u30).
Tickets (à 10€) can be reserved at info@menestrel.nl
Make sure to reserve in time, as the number of seats in this small venue is limited!
Here's a first taster for you! Hommage à Georges
Other songs from the Hommage à Georges programme are available on our Audio/Video page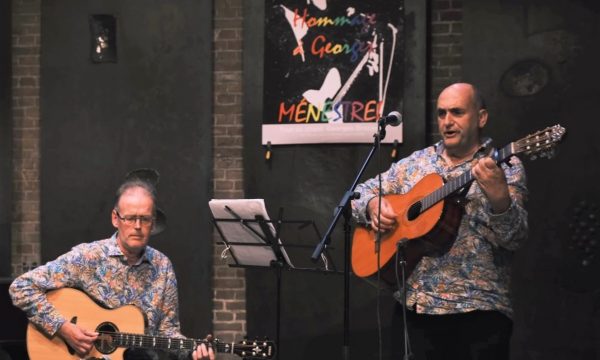 Homage à Georges:
Ménestrel in theatre Salon de IJzerstaven in Amsterdam, June 2021
Trompettes de la Renommée